Electronics & ICT Academy, IIT Roorkee
Electronics & ICT Academy IIT Roorkee (E&ICT IITR) is an initiative supported by MeitY, Govt of India to deliver short courses/FDPs/certificate courses in online as well as offline mode. Our courses lay emphasis on bridging the gap between industry demand and academic approach to learning and provide a foundation to build your career in the industries related to the ICT sector. All our courses have projects with real-life problems to give industry insights into learning. We have assimilated academic as well as industry experts to formulate the most effective courses that help professionals/students/faculty to upgrade their skills without disrupting their regular schedule. So far, we have conducted 150+ courses and trained over 15,000 beneficiaries. The Courses are conducted by well-known industry partners, resource persons from leading academia, and experts from renowned R&D organisations. For this, the Academy has signed MoU's with Industry/R&D partners in different domains, who collaborate and work with us in conducting the training programs.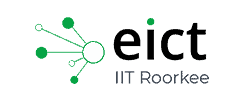 Activities of the Academy
Objectives of the Academy
Facilitate faculties and industry professionals to be abreast with the latest developments in technology and emerging industry needs.
Hands-on learning with an emphasis on emerging areas of the E&ICT domain.
Enhance teaching and research capabilities by involving the resource persons from academia, industry, and R&D organizations.
Provide training to the faculty of institutes / colleges, which would result in improvement of the quality of students thereby making them industry ready and employable in the Electronics & ICT related industry.
Academy trained faculty are expected to have the cascading effect to develop skills of the students in parent institutes.
Capacity building in the area of Electronics & ICT.