To become master:  Vehicle Fundamentals, Low-Voltage Systems, Battery Management system Development, Charging Infrastructure, Battery Sizing, Matlab Simulink, etc.,
6 Months of online learning with IIT Roorkee faculty and Industry experts
Certification in Electric Vehicle Technology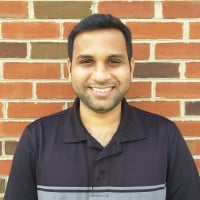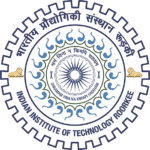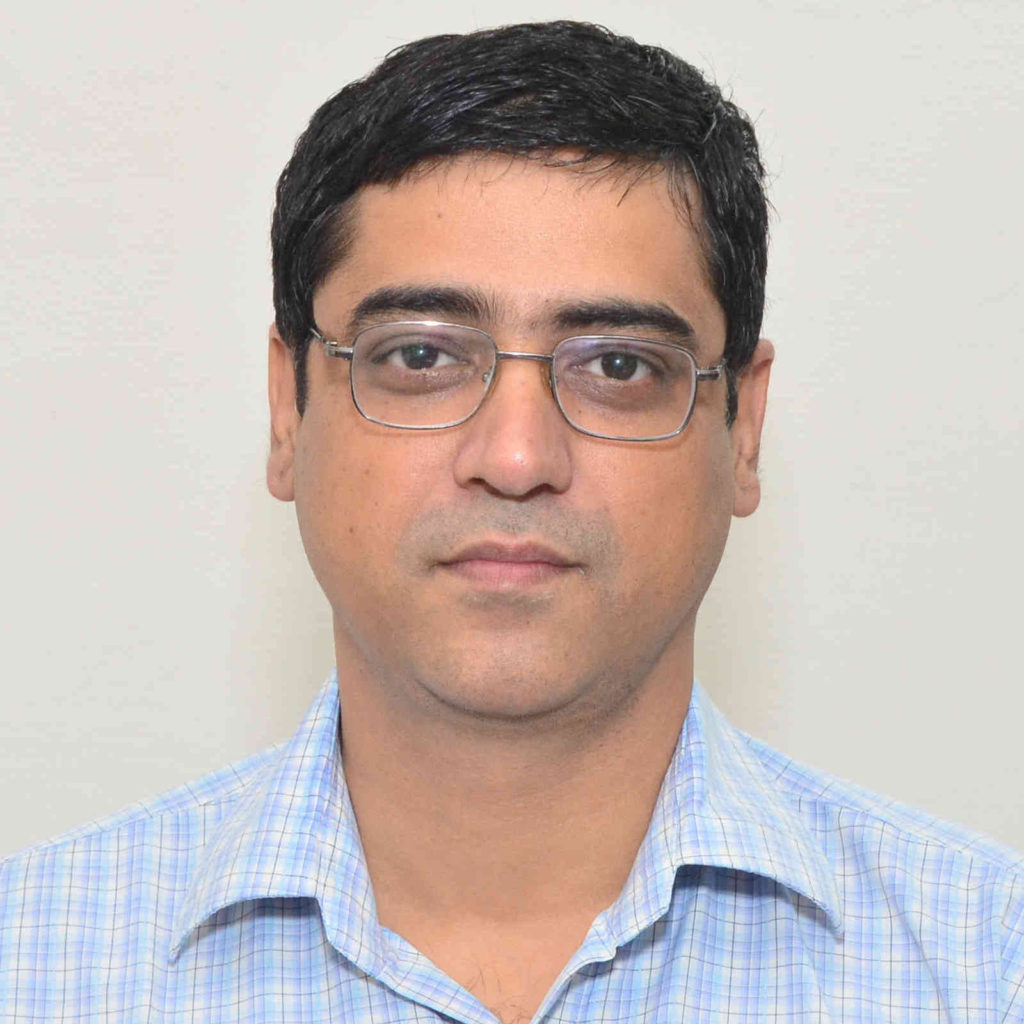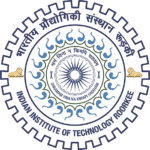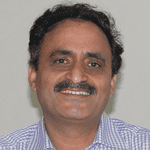 Prof. Mukehsh Kumar Pathak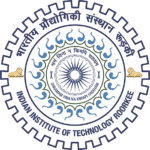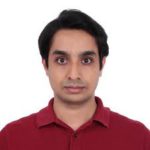 Prof. Jishnu Kavil Kambrath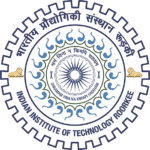 Our Advanced Certification in Electric Vehicle aims to give you extensive training in the field of electric vehicle design. This Advanced Electric Vehicle course is led by experts from IIT Roorkee who aim to make you master Vehicle fundamentals, MATLAB Simulink, low-voltage systems, battery sizing, testing of EVs, etc., which will help you build a career in this domain.
This Advanced Certification in Electric Vehicle by E&ICT IIT Roorkee aims to help you gain knowledge and master skills in various tools and technologies of Electric Vehicle. You will get to work on several real-time assignments and projects based on these popular technologies.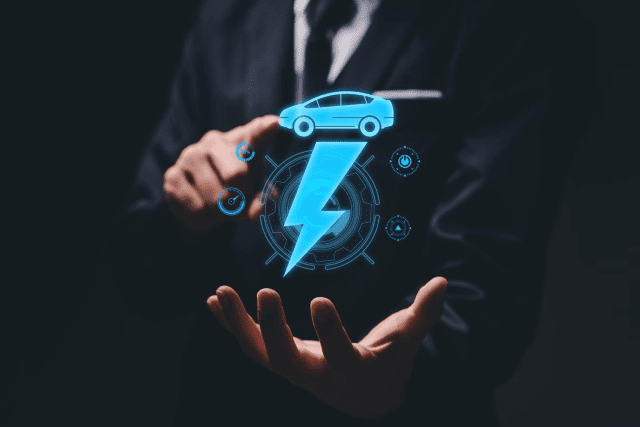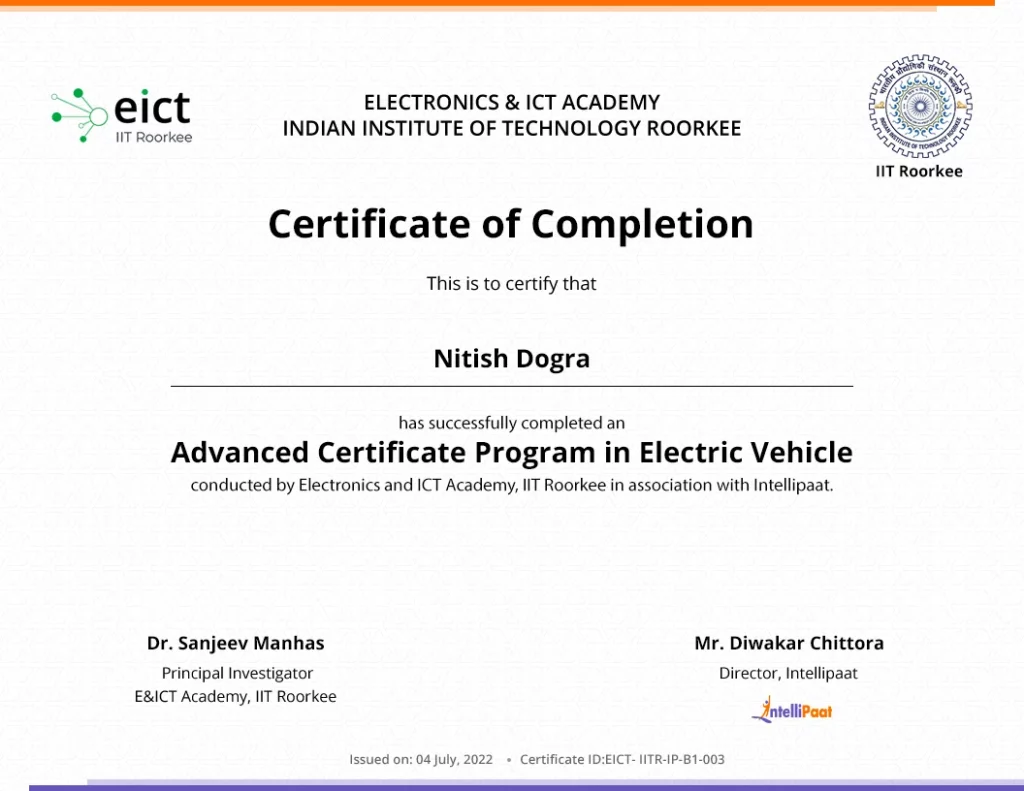 Module 1 – Vehicle Fundamentals
Basic of Electro mobility[ Pure EV, Hybrid, Plug-in-Hybrid]
EV and IC engine- pros,cons
Vehicle performance
Maximum Speed of a vehicel
Gradebility
Acceleration Performance
Module 2 – Mechanical sub-system of an EVs
Steering system and dynamics
Suspension system and dynamics
Thermal Management
Gear and transmission system
Braking system and chasis design
Turbulence
Design against vibration
Wheel and Tyre dynamics
Module 3 – Low voltage systems for EVs
Sensor interfaces
Electronics for EV testing
Infotainment system
Vehicle to vehicle communication system
Electronic control unit
Publishing odometry data from sensors
odometry modelling
Role of odometry in path of autonomous vehicles.
Module 4 – EV Motors and Speed control methods
Motor ratings
EV/HEV Motors : IM,PMSM,SyRM,PMBLDC,SRM
Torque and speed control : SRM,PMBLDC
Motor driver and convertersused in EVs
Lab exercise ( 2 hrs )

Linear controller design for electric machine system using MATLAB Simulink
Space Vector modelling of induction machine and vector control using MATLAB Simulink
Battery Fundamentals & BMS
Battery modelling advantages and Disadvantages
Characteristics of battery cell
Battery sizing
Introduction and objective of BMS
Charging and discharging control
Understanding of SOC, cell balancing
BMS topologies
soC estimation
Protection and battery management system logic Development
Module 6 – Charging Infrastructure
Battery Charging methods
EV supply equipment ( EVSE ), EV battery charges components
Charging infrastructure challenges
Classification based on charging levels , modes , plug types
Standard related to : connectors,communication,protocols,supply equipments
Converters used in EV chargers
Communication protocol/procedures for BHARAT DCOO1
Communication protocol/procedures for CCS2 charger
Lab exercise ( 3 hrs )

Single phase AC-DC converter simulation for 3.3 Kw on-board charger using MATLAB
Isolated DC-DC converter simulation for 3.3  On-board charger using MATLAB Simulink
Module 7 – Charging Station and Scripting
Charging station components
Topologies and strategies used in fact chargers
Renewable integration
DC/DC converter Modelling and simulation
AC/DC converter  modelling and simulation
Design and Simulation of AC and DC charge contrller
Lab exrecise ( 3 hrs )

Three-phase AC-DC converter simulation using MATLAB simulink
DC-DC DAB converter simulation using MATLAB simulink
Module 8 – Autonomous planning and control of EVs
Autonomous Vehicle kinematics and constraints
control to reference position and pose
lateral vehicle dynamics
Steering control for Automated Lane keeping
Cruise control in Autonomous Vehicles
Motion Planning Primtives and Planning Scenarios
Perception in autonomous vehicles
Path planning methods
collission avoidance
Co-operative control based planning
Lab exercises (2 hrs)

Longitudinal and Lateral control of autonomous vehicle using MATLAB simulink
Optimal Trajectory Generation for Urban Driving 
Module 9 – Testing of Electric Vehicle
Testing – Penetration testing, Thermal Testing, Non- Destructive Testing
Module 10 – Quality Assurance
Battery Systems: The battery pack is a critical component of an electric vehicle. QA involves rigorous testing and validation of battery cells, modules, and packs to ensure their performance, energy efficiency, and durability. This includes tests for temperature management, voltage stability, charging and discharging cycles, and safety features like thermal runaway prevention.

Functional and Performance Testing: QA encompasses extensive testing of the vehicle's performance characteristics, such as acceleration, braking, range, energy efficiency, and handling. Functional tests are conducted to verify the proper operation of systems like regenerative braking, powertrain control, battery management, and user interfaces.

Reliability and Durability: QA involves subjecting EVs to reliability and durability tests to evaluate their performance under various operating conditions and stress factors. This includes testing for temperature extremes, vibrations, shock resistance, corrosion resistance, and extended life cycle testing. Reliability predictions and failure analysis are also conducted.

Safety Standards and Regulations: QA ensures that EV designs comply with safety standards and regulations specific to electric vehicles. This includes considerations for crash safety, fire safety, electrical safety, and compliance with relevant standards such as ISO 26262 (functional safety for automotive systems) and IEC 61508 (functional safety of electrical/electronic/programmable electronic safety-related systems).